Cree8.ca: Drum-making, Drumstick & Songs Workshop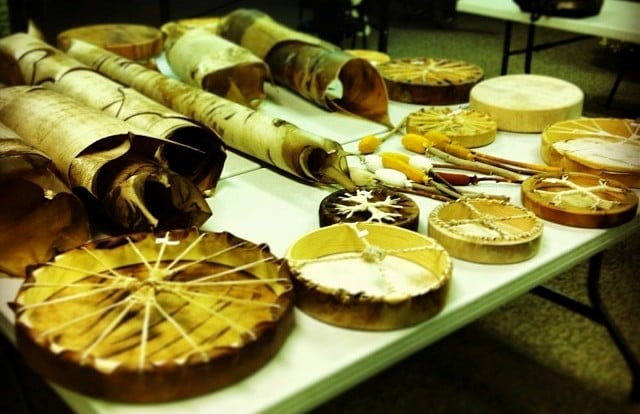 Cree8 will be hosting a THREE-DAY drum-making, drumstick & song workshop - July 29, 30 & 31, 2016 
---
Location:
Chateau Chagnon
4504 Dalhart Road NW
---
Details:
Friday, July 29, 2016
Drum-Making
6:30 pm – 9:00 pm
Blessing ceremony, smudge and teachings.
Cutting the hide and soaking overnight.

Saturday, July 30, 2016
Drum Making
2:00 pm - 6:00 pm
Opening prayer and smudge.
Sharing stories, legends & history of the drum.
Making and stringing drums.
Sunday, July 31, 2016
Drumsticks & Songs
3:00 pm - 6:00 pm
Potluck Feast, Grandmother Moon Ceremony & Drumming Circle
6:30 pm - 8:30 pm
---
All are welcome to attend the Potluck Feast and Grandmother Moon Ceremony. Bring food to share and dress for the weather.
---
*We will have coffee, tea, water, juice, and snacks.  Let us know if you have any allergies or dietary restrictions.
---
Materials:
Drums
Rawhide – Deer, Elk, Moose, or Buffalo for the drum face
Lacing – Rawhide (Precut)
Drum Rounds – 8", 10", 12" or 14" Yellow Cedar
*Larger Drums – Please add $50 for 16", 18" or 20" rounds to cover costs of the additional materials
Drum Sticks
Sticks - Different sizes and types of wood to choose from
Mitt - Deer Leather/Suede
Batting – Wool
Sinew – For stitching
---
Payment:
We humbly request $250/drum for instruction and all materials.
Register Online:
By Email Transfer: 

[email protected]

We also accept cheque or money order, mail or drop off to:
          Chantal Chagnon
          4504 Dalhart Road NW
          Calgary, Alberta
          T3A 1B7
---
If you would like to make payment arrangements, or need sponsorship to attend please contact

[email protected]
If you would like to donate and give someone the opportunity to attend, please contact

[email protected]
Your generous gift would be very much appreciated.
---
For additional information or to register, please contact;
Chantal Chagnon – 403–404–7664 – [email protected]
---
Facebook Event:  https://www.facebook.com/events/1631223577195230/
WHEN
July 29, 2016 at 6:30pm - July 31, 2016